Only a little…hero would wake up at dawn during holidays.
Even if the prize, the spectacular sunrise across Patmos Villa Sophia, is worth every second of lost snoozing.
So, on our second perfect day on this blessed island, we have very deservedly earned the right to spoil ourselves.
We wake up at our leisure and not even bother to prepare breakfast. Instead, we head off for one of the most traditional coffee bars and classic «hubs» of the island, the legendary Arion.
Its elegant neoclassical building is situated at the exact center of Patmos, combining delicious omelettes, with a nearby international newsstand and a delightful kaleidoscope of simple yet mesmerizing island life.
If you allow yourself to simply «take it all in», you can enjoy one of the most relaxing and enjoyable experiences of your life.
Following this majestic delight, there is nothing healthier than a long stroll and a refreshing swim, so it might be a good idea to choose one of the most faraway beaches, such as the Livadi Geranou beach on the north.
(www.in2life.gr)
It offers one of the best swimming experiences on the island with its excellent water and the magnificent view of the Monastery.
( by Odd Haldorsen from www.panoramio.com)
While you are in the area, you can also visit the Geranou Bay little Virgin Mary church, located on the farthest point of the island and witness a fantastic sunset.
Later in the night, after perhaps a short rest interval in Patmos Villa Sophia, you can enjoy dinner and drinks at any of the restaurants and bars located on the little plaza, known as «la piazetta», in the center of the traditional settlement of Chora, considered a world heritage site by Unesco.
A romantic nocturnal promenade around the alleys of Chora, the most notable medieval architectural marvel in Greece, can prove true magic.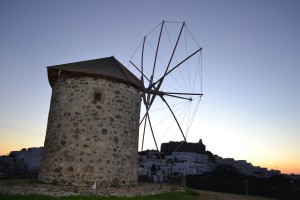 Its amazing highlights can be seen in the beautiful settlement presenting a plethora of whitewashed mansions and Aegean style houses that embrace the fortified monastery.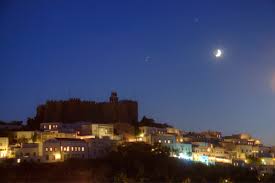 At night, the splendidly lit Castle Monastery of Saint John the Theologian brings immediately to mind the exalted perception of Heavenly Jerusalem that the prophet beheld in his apocalyptic vision.
Indeed, the perfect end to a "Perfect Day 2".